Need Help Finding the Best Community Bank for your Business?
When you're looking for a true financial partner for your small business, it's easy to get overwhelmed by all the items on your to-do list. Fortunately, partnering with a great community bank is all about knowing what to ask.
Selecting the perfect business bank
for your goals requires a lot of research. After all, you must consider the types of financial products you'll need, the ways you plan on growing your business, the methods of communication you prefer, and more.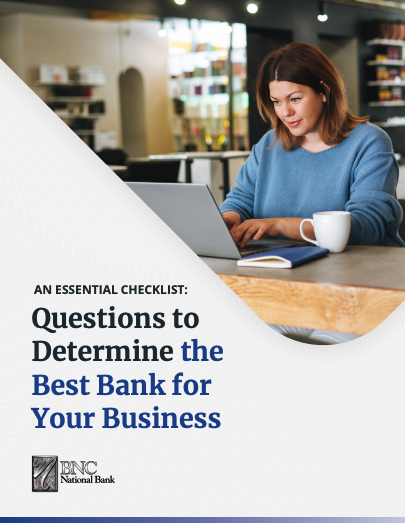 We believe that the right community bank for your business will make your busy life a little easier.

At BNC National Bank, we start that support from day one. In our helpful resource, we'll share the specific questions we'd ask during an interview, including:
How the bank handles onboarding processes to make your life easier
What future-proofed offerings the bank has to really grow with you
How the bank will invest in a great customer relationship with you
... and more!